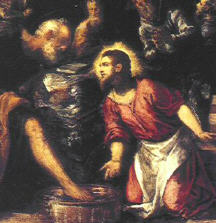 And [Jesus] comes unto the disciples,
and finds them asleep, and says unto
Peter, `What, could you not watch
with me one hour?' ...
He went away again the second time, and
prayed, saying, O my Father, if this cup
may not pass away from me,
except I drink it, Your will be done.
Matthew Ch. 26:40,42.